Leadership skills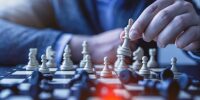 Management Tip: Small Things Make A Big Difference
As a manager, it's tempting to want to spend time on lofty strategic issues, but the reality is it's often the small stuff that makes a big difference in your employees' day-to-day experience of work, engagement, and loyalty.
Thu hút nhân sự không chỉ bằng lương
Khi đưa lên bàn cân những lựa chọn công việc với các nhà tuyển dụng khác nhau, mức lương phải chăng là yếu tố đưa đến quyết định sau cùng của ứng viên? Nếu quá chủ quan với giả thiết này, doanh nghiệp sẽ chỉ tiêu tốn thêm một khoản chi phí cố định, lâu dài để thu hút ứng viên sáng giá, đồng thời góp phần tạo ra sự cạnh tranh kém lành mạnh trên thị trường lao động.